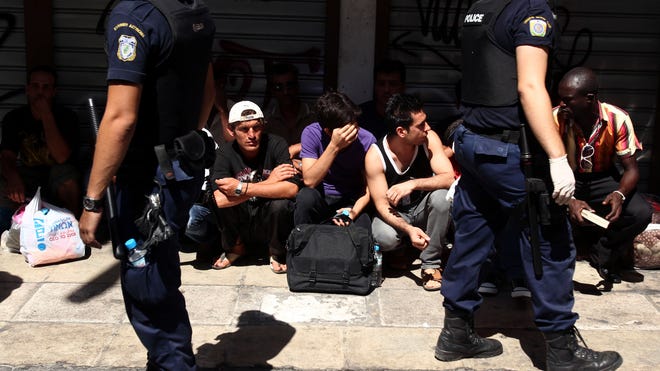 Via FoxNews
Very depressing news from Greece in the last few days, as the government has rounded up thousands for deportation and shamelessly sought to shift blame for financial issues onto the shoulders of non-citizens.
The minister, Nikos Dendias, defended the mass detentions, saying that a failure to curb a relentless flow of immigrants into Greece would lead the country, which is surviving on foreign loans, to collapse. "Our social fabric is at risk of unraveling," Mr. Dendias told a private television channel, Skai. "The immigration problem is perhaps even greater than the financial one."(NYT)
Oh, if only that were true.
Unfortunately, it is far more likely that this is a cynical move to distract from the country's actual financial problems- reliance on foreign debt, risky lending, artificial inflation- by suggesting that this is an outsider problem, caused by foreigners.
As we have discussed
previously in this blog
, Greece's asylum system is dangerously backed up, with asylum seekers waiting for years to get a (mandatory) interview or possibly receive refugee status if they are entitled to. With Greece being an entry point into the EU, and with the masses of refugees pouring out of countries effected by the recent tumult in the Middle East, this has meant a compounding of problems- larger numbers of people waiting larger amounts of time to have their status regularized (or, alternatively, to reach a determination that they are not refugees and may legally be deported.) This means some people have been living in Greece
for years
, waiting to get their status regularized.
It is understandable that the Greek government is anxious to clear up this issue. However, the solution is not to utterly disregard human rights obligations, both under EU and international human rights law, by arbitrarily deporting anyone found during mass "immigration raids" to not possess papers. Not only are some of these individuals likely to be waiting for their appointment with the immigration services, but more to the point,
deporting an individual who qualifies as a refugee is refoulement, and is reprehensible and illegal.
And you can't tell whether a person is a refugee by a brief glance at their papers, or lack thereof.
When 6,000 people are detained
over one weekend, it is hard to believe that anyone received a fair shake at a refugee status determination interview.
As history has often demonstrated, in times of economic and social strife it is tempting to rely on xenophobia and anti-immigrant sentiment as a tool of distraction. But that doesn't mean they should get away with it.
Come on, Greece, you can do better.
Previously:
Greece: The Pressure is on to Fix an Failing Asylum System
Deja Vu: Greek Immigration Crackdown